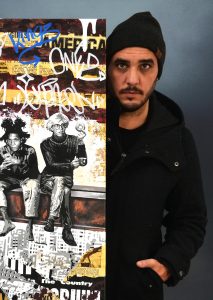 Alberto León, Spanish self-taught artist, born in San Cristóbal de La Laguna, Tenerife (Canary Islands) in 1983. It is formed in the field of graphic design for more than 5 years. After working several years in different companies in the sector and complement their vocation; Drawing and painting, decides to take his skills as a graphic designer further and merge them with his other passion, urban art.
That's what starts a launch his career as an artist in 2012 to coincide with his arrival in Barcelona.
It is in this city where he began a collecting torn posters from the streets to decorate their combinations with fabrics and paints, spray and different textures to keep the essence of street art.
​The young artist express with total freedom in art, rescuing icons that have marked an era in our lives and merging with dirt and language reflected in the street. In his works they are connected with the public using positive messages and provocative images that are made in reflection.
León has works sold in more than 20 countries and currently exhibits permanently at the prestigious «Graffik Gallery» in London (one of the most important urban art galleries in the United Kingdom) and in the United Arab Emirates, specifically in Dubái in the art gallery «Gallery 27«.
He continues working to expand his artwork as far as possible around the world.
Exhibitions
2021
Solo show Espai Tarruella / Vitis art (Barcelona)
Graffik gallery (London)
Hugo's Pop Up Shed (Chipping norton)
Gallery 27 (Dubái)
2020
Solo show Tarruella space / Vitis art (Barcelona)
Graffik gallery (London)
2019
Oliver Hudson Gallery (New York)
Ixiart Gallery, Toulouse (Francia)
Graffik gallery (London)
2018
Filippo Ioco Studio & Gallery (Barcelona)
Space gallery. Solo show (Barcelona)
Moniker Art Fair (London)
Graffik gallery (London)
Galeria de arte Ágora 3 (Sitges, Barcelona)
2017
Canariada (El Hierro, Canary Islands)
Galeria de arte Ágora 3 (Sitges, Barcelona)
Art Window Gallery. Solo show (Barcelona)
2016
Graffik gallery (London)
Galería Jordi Miguel. Solo show (Barcelona)
Espai artistic Niu. Solo show (Barcelona)
Plátano rock (Tenerife, Canary Islands)
2015
Sala de Arte La Recova, Tenerife (Canary Islands)
B&Barock Galerie de art (Barcelona / Bruselas)
Galería Danubio, Sitges (Barcelona)
Veneno Negro tatoo / art, Sitges (Barcelona)
2014
Artevistas Gallery (Barcelona)
Can Pop Gallery (Girona)
2013
Galería Bernet (Barcelona)